France often experiences long, rainy winters and extended nights during the winter due to its geographical location and climate. Therefore, the sunny weather and radiant sunshine of spring and summer are highly valued by the French. When bathed in sunlight, the scenery in Paris is breathtaking, with golden sculptures on the Pont Alexandre III, cheesed-coloured facades and the dazzling dome of Invalides shining brilliantly. Parisians know how to make the most of their city's outdoor life under the sun. So, if you're wondering the best way to enjoy the sunshine and fresh air in Paris like a true Parisian during the spring and summer months, read on!
Picnicking and Sunbathing in the parks
From spring to summer, Paris is a city that boasts an abundance of blooming flowers. You can find cherry blossoms at Champs de Mars and Trocadéro, magnolias and fountains at Jardin des Tuileries, and numerous city parks throughout Paris that offer ideal spots for picnicking and sunbathing. On sunny weekends, you can bring your homemade pastries, sandwiches, and wine and enjoy a Parisian-style picnic basking in the sunshine of the gardens. This experience will be an unforgettable and romantic way to spend your spring and summer outdoors.
Parisians love to soak up the sun and don't mind exposing their skin to it, as they prefer a natural and radiant tanned skin tone. However, they never forget the importance of protecting their skin from the sun's harmful UVB rays, which can damage the epidermis, and the outer layers of the skin, and cause inflammation and redness. For Parisians, protecting their skin is essential all year round, especially during the summer. They have a habit of purchasing their sunscreens from pharmacies with advice from highly trained pharmacists to ensure that their skin is well-protected.

Taking a stroll along La Seine
Paris is a city that offers a wide range of leisure activities, and among them are some very French ways to relax and enjoy life. One of the most popular pastimes for both locals and tourists is taking a stroll along the Seine River. The riverbanks are perfect for a casual walk, jogging, or open-air workout. Parisians love spending time on the riverbanks, admiring the unique architecture and bridges that span the Seine. Relaxing by the river with a loved one, watching the boats go by, is considered a moment of pure happiness.
During the sunny spring and summer months, the sun can be quite strong, especially near the water. It's essential to wear waterproof sunscreen that protects against UVA and UVB rays when doing outdoor activities. To help you stay protected, the Obonparis team has selected some excellent sunscreens that are perfect for outdoor activities during the summer.
1
Uriage Bariésun SPF 50+
This very high-protection cream is a best seller in French pharmacies during summertime. Designed to fit sensitive skin (non-comedogenic), it provides very high protection against both UVA and UVB. The skin quickly absorbs the cream and has a non-greasy finish, which makes it pleasant to use.
2
La Roche-Posay Anthelios 50+
Anthelios Invisible Fluid Facial Sunscreen SPF 50+ is a lightweight daily facial sunscreen made for sensitive skin providing very high UVA/UVB protection while delivering an invisible finish.
3
SVR Sun Secure Mist
This mist sunscreen is fresh and its ultra-thin texture offers an invisible finish. It's very easy and convenient to use, like a spray. The filters are anti-UVA/UVB, and anti-infrared, to form a protective shield for the skin. Its biodegradable formula, respectful of the marine environment is water-resistant and suitable for the whole family (children from 3 years old), including sun-hypersensitive skin.
Enjoying a refreshing cocktail on a terrace
After a long day at work, nothing beats enjoying a refreshing cocktail on a terrace while catching up with friends and soaking up the gentle evening sun. The Parisians don't just focus on the drink's flavour, but also on the beautiful decorations and innovative mixology that create a certain "ambience." Perfume also plays a significant role in adding to the atmosphere, and Parisians have a unique sense of fragrance, deliberately changing their scent according to the season. A fresh and sweet perfume pairs perfectly with a summer cocktail under the sun. It's worth noting that Paris is home to world-renowned perfume brands, but the Parisians are more proud of their unique taste, preferring to choose fragrances that best suit their mood and the season. With its vast range of products and expert guidance, the Burdin perfume store is the go-to destination for those seeking to explore the world of fragrances in Paris. Before shopping there, have a look at our offer exclusive offer here.
Visiting Parisian local markets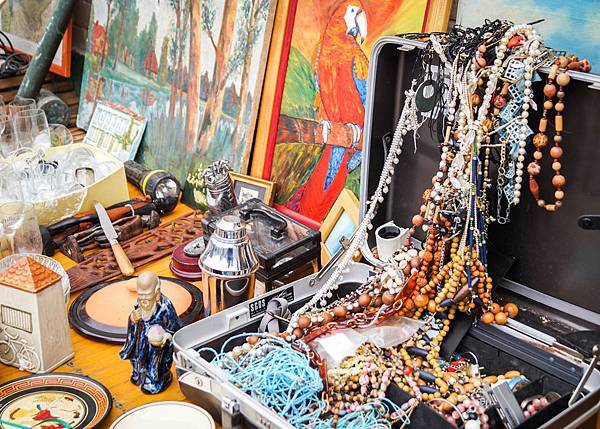 When it comes to shopping in Paris, nothing beats browsing through the many open-air markets to find vintage decor, unexpected treasures, vintage clothing, and fresh food. These markets offer a unique shopping experience where you can enjoy stunning treasures and glorious sunshine at the same time which is entirely different from a typical shopping mall. If you want to experience this atmosphere in-depth, click here to explore the 5 best markets in Paris.
The after-sun skincare
A perfect skincare routine is another secret to Parisians enjoying the summer sun. High SPF sunscreen inevitably brings extra burden to the skin. Therefore, after using sunscreen, thorough cleansing and after-sun repair are also important steps.Micellar water is a good choice for a thorough skin cleansing, especially for sensitive skin. for all skin types. Bioderma créaline H2O is one of the more famous micellar water in the world. To use it, soak a cotton pad then wipe it gently over your skin. Re-apply the micellar solution until the pad becomes clean. There is no need to use water to 'wash away' the micellar water.
We also recommend using thermal water spray to keep the skin hydrated. Thermal water spray is a must-have item in summer. In addition to refreshing and moisturizing the face, it can also help protect the skin from UV damage and reduce inflammation. One of the most famous ones is originating from the Avène Thermal Spring in the south of France, it contains unique mineral and biological characteristics that can soothe inflammation and calm redness, making it one of the most famous thermal waters.
After you have finished cleansing, you will need to keep your skin moisturised and soft with moisturising products to help it recover from the burden of sunscreen and the heat brought on by the sun. The Avène Hydrance Aqua Gel can be used as a day cream, a night mask and an eye cream and is suitable for all sensitive skin types. It hydrates, soothes and detoxifies the skin, which looks more radiant and supple. The moisturizer contains of course Avène Thermal Spring Water, Cohederm complex (a unique patented active, proven to form water reservoirs in dehydrated skin and replenish the skin barrier) for intense hydration, as well as Dextran sulfate and Pre-tocopheryl, that helps fight free radicals.
O'bon Paris' tips
Cosmeceuticals are a French speciality. Once you have arrived in magnificent Paris, you can find all these products in pharmacies such as Monge Beauty Shop, which is one of the best French beauty shops in Paris that has a large variety of products. You can use the O'bon Paris coupon to shop there or order your products online. Click here to see the details of our exclusive offer.
---
Author: Jingxin
Photos: O'bon Paris Team